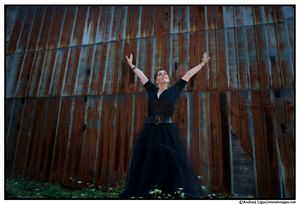 Kristin Amarie is a Norwegian born singer/composer, who calls the world home. 
Living in such diverse places as India, France, Malta, Thailand, the US and now Cyprus, each change in location has added its unique musical flavor to Kristin's music. 
This was very evident on her debut release, NOTES FROM A JOURNEY, produced by Grammy Nominated NY musician/producer, Alex Salzman. 
And the world is listening! The prestigious IMA gave NOTES FROM A JOURNEY the Best New Age album Award of the year! 
The album debuted at #2 on the ZMR radio chart and reached #1 at ContemporaryMusic.com. Music journalists raved about the album! ZMR nominated her for Best New Artist, HMMA for Best World music single and One World Radio awarded Kristin with the Best Vocal Album of the Year! 
Her musical frontiers have extended to some of the latest contemporary musical genres, such as her work with Russian ambient/chill producer Solarsoul in Moscow. Their first song, "Hope Never Dies," made it to number 31 on the Beatport Top 100. 
In 2014 Kristin released FOREVER CHRISTMAS, her first collaboration with husband and musical partner, world renowned pianist, David Lanz. Reviews claimed it as the year's best Christmas album and it set the stage for what was to come. 
2015 brought another collaboration by this talented couple, SILHOUETTES OF LOVE. Romantic New Age pop at it's finest! They brought in a talented team of producers and musicians including Grammy winning keyboardist and producer, Greg Karukas, Also in the producers chair, David's talented brother, Gary Lanz and their good friend, Grammy Nominated producer Alex Salzman. The results were sublime! 
Because of her wide ranging vocal abilities, Kristin created a project entitled, PRIVATE COLLECTION, released in 2017. A recording of some of her favorite cover songs. From the Beatles to Broadway; James Taylor, Mama Cass, Helen Reddy, the Carpenters and Barbra Streisand. All beautifully performed... heartfelt and stirring! 
In 2019, she released a re-mix of the single Evening Bells, "CAMPANE A SERA" (feat. Charlie Bisharat). The song is dedicated to lovely evenings under the Mediterranean dusk. 
The single "SILENT NIGHT"(2021) was a follow-up to the huge popularity of her rendition of "O HOLY NIGHT" (first released 2014) which to-date has received several millions streams worldwide. 
Silent Night reached #1 position on two major European Charts in December 21. It has Kristin's daughter, Zoë Emmy contributing vocals, David Lanz on piano with David Arkenstone's production.  
Kristin spent 2022 finishing the album "LETTERE D'AMORE (LETTERS OF LOVE)" with her husband David Lanz. The songs feature Grammy winning violinist extraordinaire, Charlie Bisharat and the renown Cameron Stone on Cello (Game of Thrones/Star Trek), Ulises Passarella on Bandoneón (Academy Award winning score for "Il Postino"), Alex Panayi on vocals (Disney, Eurovision) and with 5xGrammy nominated  David Arkenstone behind the production. Mixed and mastered by Grammy winner Bill Hare (Pentatonix)m "LETTERE D'AMORE" released September 1st 2022. 
Christmas 2022, Kristin released her latest single "MARY DID YOU KNOW" with tenor John Riesen and David Lanz. The song reached close to 300,000 spins within its first month on SMP. 
While writing their most recent album, David and Kristin were inspired to create a new melody basis for the beloved Latin prayers "AVE MARIA". The single release is due April 7th 2023 and features Kristin and Luca Brugnoli (Libera Choir, UK) and David on the piano. Arrangement and production by Kurt Bestor and his team in Salt Lake City, US. 
In between her own releases, Kristin is a regular collaborator and contributor to her husband, David Lanz's, solo piano work.